April 2013, Volume 118


By Mark Loundy

"The Universe in a Single Atom: The Convergence of Science and Spirituality"

— Dalai Lama

Defining yourself strictly as a "still photographer" or a "videographer" may not only have business implications, it's becoming increasingly difficult to distinguish one from the other. Technology is pushing the industry with equipment that would have been considered science fiction just a few years ago.

Camera's such as the Red Scarlet and Sony's new PMW-F55 not only have the resolution needed for commercial still use, but they have dynamic ranges that exceed that of film (14 stops in Sony's case.) The demarcation between still and video equipment is increasingly being drawn by the marketing department.
Miami-based photographer John DuMontelle was able to sell his client some "still photography" without ever touching a so-called still camera.
"I had a job shooting several segments for an entertainment show," wrote DuMontelle. "All went well. Then the producer asked me to send them some screen grabs to use as still photos for promotion and web site. I had to smile since it made me think of a few posts from still photogs who have not figured out yet that if they only shoot stills, they're limiting themselves and their future job opportunities.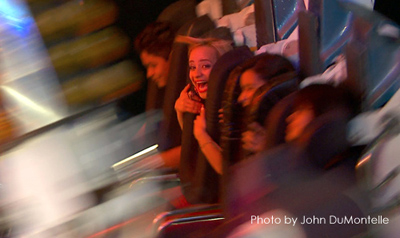 "This grab was shot with my Sony EX3 HD camera. In fact, much like the work of many still photogs, I cropped it some and made the image smaller to fit my client's request. My "video motor drive" gave me lots of choices. No worries about when to "click" with my finger to capture a moment. I had ALL the moments to choose from. Is it the most awesome still photo ever shot? Nope! No way! But the client loved it and the other twenty shots I sent for them to choose from...instead of them having to hire a separate still photog for the shoot or have me carry a second still camera."
But DuMontelle isn't afraid of competition; "I'm hoping others who limit themselves to only shooting stills will make the effort to keep themselves, and their talents, relevant for the future by embracing video technology. Still photography will never completely go away for print. But when it comes to news coverage...it's a freight train headed for a sudden ending very soon. Many of us, NPPA members, who happen to shoot video, are here to help our fellow members achieve the extra skills."
One of the best ways to update your skills is to attend a hands-on workshop such as the NPPA Multimedia Immersion in May, the recent Advance Storytelling Workshop, the annual Oklahoma News Video Workshop or one of Dirck Halstead's Platypus Workshops.
As three-time faculty member of the NPPA's Digital Workshops, I can tell you that the learning at these multi-day sessions is intense, concentrated and amazingly fun.
The AP has modified its contract for NFL contributing photographers (stringers who cover NFL games.) The amendment allows the NFL to use images on "licensed products." The photog's cut is 5% of gross sales, which isn't too bad. That means that if somebody buys a coffee mug for $20, the photographer gets a dollar.

I'm getting reports that the Wall Street Journal, contrary to its stated policy of paying in 30-45 days, are taking far longer than that. At least one of their editors was reportedly under the impression that their payment policy is 90 days.
The above item was repeated from an earlier Common Cents.

The Atlantic, which claims 13 million readers a month for asking writer Nate Thayer to whip out 1,200 words "by the end of the week, even though, "We unfortunately can't pay you for it."

Please let me know of any particularly good, bad or ugly dealings that you have had with clients recently. I will use the client's name, but I won't use your name if you don't want me to. Anonymous submissions will not be considered. Please include contact information for yourself and for the client.
Leftovers
The folks at Photoshelter cannot be said to rest on their laurels. They keep on coming out with great info for working photographers. This time it's the Photo Business Plan Workbook and also, The Photographer's Guide to Copyright..

Getty-owned iStockphoto has been making a lot of unintentional noise lately. In February, they dumped one of their top shooters, Sean Locke, after he had the temerity to complain on his blog about Getty's deal to license 5,000 of its images to Google, which netted the shooters a one-time payment of 12 bucks.
A few days later, iStockphoto founder Bruce Livingstone, who left the company in 2009, announced he is starting another stock photo business, Stocksy, which will be owned by its contributors and will pay them a bigger cut of sales. Stocksy's pricing structure couldn't be much simpler with royalty-free licensing for small, medium and large image sizes ranging from $10 to $50. It's clearly a volume business model. The company pays all profits to its contributor/owners in the form of dividends and patronage fees, on top of sales percentages ranging from 50% for regular sales to 100% for "extended" sales.